Before You Give Birth, Check Out Our Pick Of The Top Parenting Books To Help You Be Prepared For Baby.
As a first-time mom, your reading list probably includes books that tell you what you should eat, explain why you're experiencing certain symptoms and describe how your baby is developing. These are all important. But at the end of these nine months, you're going to have a baby to bring home, and you sure aren't going to have time (or energy) then to reference books for ideas about how to manage colic or figure out how to keep some semblance of a spotlight on your relationship with your partner. Be prepared with our list of the top 6 parenting books for moms.
Elizabeth Weiss McGolerick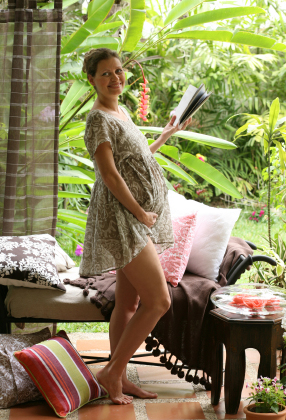 Pregnancy is the time to read about what life can and will bring once baby arrives, and how to get prepared for it. The books featured here will help first-time moms learn how to bond with baby, maintain a happy marriage, accept the many ways pregnancy changes you (mentally, emotionally and physically) and make peace with your inevitable screw-ups. And don't worry – it's not all seriousness. You've gotta learn to laugh too at one of life's greatest challenges and miracles. These books will show you how.
It Gets Easier! …and Other Lies We Tell New Mothers
By Claudine Wolk
Irreverence and humor are crucial elements to surviving life as a new mom. Wolk's tome aims to help mothers feel less lonely and find more enjoyment in their new gig. The truth, as the author says, is that mothering isn't easy but it can be made easier. This book covers the importance of making choices, shelving judgment, simplifying tasks, appreciating a routine and having "The Talk" with one's husband before giving birth. With humor and compassion, Wolk is straightforward about how baby alters, but doesn't have to completely transform, your life. The ultimate message is one of hope and a feeling of, "Darn it, I can do this! And when I screw up, well, I won't be the first mom who has."
For more on this topic, read Your postpartum life: Things we'll tell you that no one else will
The Happiest Baby on the Block: The New Way to Calm Crying and Help Your Newborn Baby Sleep Longer
By Harvey Karp, M.D.
Mothers everywhere have sworn by the calming and soothing benefits presented in this book. Karp talks of baby's first three months as the fourth trimester, explaining that parents who simulate the cozy, sloshy, whooshing world of the womb for their infant will find that the heartbreaking, without-a-cause crying can stop. When all else fails, when diapers have been changed, scenery altered and songs sung, the methods of swaddling, swinging, sucking, side-positioning and shhh-ing seem to make all the difference in helping baby get the rest they need. And a well-rested baby equals a happy baby, which equals a happy first-time mommy who can pat herself on the back and shout with pride, "I have conquered sleepless nights!"
For more, read How to calm your crying baby.
It Sucked and Then I Cried: How I Had a Baby, a Breakdown, and a Much Needed Margarita
By Heather B. Armstrong
This book's subtitle might scare the bejeezus out of you, but the honesty, forthrightness and stunning sense of humor Armstrong uses to dish up her simultaneous love and fear of motherhood will help usher new moms into a job that can be sometimes thankless yet completely rewarding. Motherhood really is the toughest job in the world – and plenty of women do it and come out alive on the other side, perhaps a little worse for the wear but nevertheless feeling infinitely blessed. Armstrong, creator of Dooce.com, the most popular personal blog on the web, spells it out straight and true – the pain (literally and figuratively) and the unbelievable joy of motherhood go hand in hand. And ultimately you wouldn't have it any other way.
Is it baby blues or is it really depression? Find out the difference here.
And Baby Makes Three: The Six-Step Plan for Preserving Marital Intimacy and Rekindling Romance After Baby Arrives
By John M. Gottman, Ph.D.
Let's face it, sleep deprivation and an overwhelming sense of responsibility can quickly spiral into resentment and frustration in a relationship. Even the strongest pairs undergo strain when a newborn is brought into the household. A world that once spun around a couple now revolves around a trio (more accurately, around one very tiny, loud person). Gottman explains that even though your transition to parenthood won't always be easy, it doesn't have to be impossible or kill your relationship. Reading this book before baby arrives will help couples create a healthy home environment and make a pact to inject romance and appreciation wherever possible to keep their relationship from turning topsy-turvy.
Will your sex life change after baby is born? Find out all about postpartum sex here.
Does This Pregnancy Make Me Look Fat? The Essential Guide to Loving Your Body Before and After Baby
By Claire Mysko and Magali Amadeï
Baby gives you a new life, a new body and new insecurities. It can be a mental game for new moms to keep ahead of negative feelings about their changing body. From weight gain to weight loss, body image to Mom jeans, sexuality to self-esteem, beauty activists Mysko and Amadeï broach that forbidden zone – a woman's figure and how she feels about it, before and after baby. They've interviewed over 400 women to compile a book that honestly talks about how moms view their size and shape and provides practical tips and strategies to develop trust, acceptance and appreciation for your fast-shifting figure. (Psst… it involves ignoring in-your-face reports about celeb moms who drop the weight fast.)
For instant gratification, check out all of our fabulous articles on losing the baby weight.
The Parent Trip: From High Heels and Parties to Highchairs and Potties
By Jenna McCarthy
Honest, edgy and laugh-out-loud funny, this book offers a fresh perspective on pregnancy and parenting. If you want to know what to really expect once you bring that darling baby home from the hospital into a dangerous world, take a look at the hard-won wisdom McCarthy openly offers here. Though you may still be a few months away from holding your own baby in your arms, when you personally encounter those long nights of pleading with your child to sleep and have moments of just not knowing what to do, you'll hopefully recall the helpful and amusing enlightenment offered by this guidebook… and realize you are not alone on your journey.
There's no way of knowing completely what to expect after pregnancy – whether you'll have a colicky baby or a fussy spouse – every mom experiences something different. So it's a good idea to get a taste of a little bit of everything and prepare for the could-happen moments. You're feeling overwhelmed enough as it is, so don't lament if you don't get to all the books on this list. Pick and choose and skim where you need to, but rest assured that this selection will give you a solid idea of what your days and long nights will soon be like – the good, the rocky and the overwhelmingly joyous.
These parenting books will also make great baby shower gifts! For more baby shower gift ideas, check out Top 20 baby shower gift ideas.
Also, check out all of our fabulous articles to help you prepare for the best job ever -- becoming a mom.