I recently got some adorable Seedling dolls from the Goldberger company to review. These cute and ultra soft baby dolls...
I recently got some adorable
Seedling dolls
from the
Goldberger
company to review. These cute and ultra soft baby dolls will make an excellent and affordable holiday gift for a baby or toddler.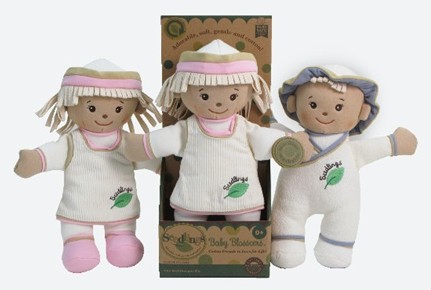 PRODUCT
: I received an
Ivy Seedling
in pink and a
Baby Blossom Seedling
in blue.
COST
: The Baby Blossom is $14.99 while the Ivy Seedling is just $9.99.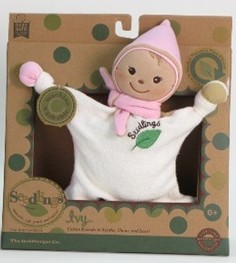 BASICS
:
The cute little 8" Ivy Seedling has surfaces and clothing made from cotton fibers. Ivy is specially designed with a knot on each end which means easy gripping & holding for little hands and doubles as a baby teething toy. The
12" Baby Blossoms are also totally made with cotton fibers and their soft bodies are filled with all new materials-polyester fibers. All Seedlings are
machine washable, perfect for newborns+ and come with the
Goldberger Lifetime Guarantee
.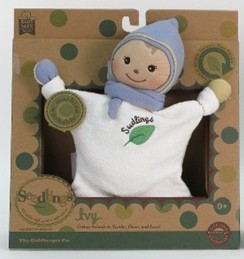 THE GOOD
:
Seedling baby dolls are a better choice than many conventional dolls because they have some eco-friendly attributes. For example, their packaging is almost 100% recycled and recyclable. The boxes they come in are adorable and can be recycled. The same goes for their little tags.
The Seedlings are incredibly soft and well textured for little hands and senses. Their faces are smooth cotton while their cute outfits are made with a more textured cotton material that's easy to grasp.
The knots on baby Ivy's hands and feet do make it very easy for a baby to hold.
Baby Blossoms are the prefect size for young babies and toddlers - not too big, easy to hug and love, and all the dolls have friendly, simple, sweet faces. Overall I like the simplicity of these toys. Seedlings aren't complicated, they're just sweet little dolls that your baby will love to carry around.
There are no small parts that come off on these dolls (i.e. buttons, beads, strings, etc) so there's zero choking hazard risk.
When you register your Seedlings at the Goldberger website you'll gain access to other cool stuff like lullabies, coloring pages, stories, games, and more.
THE NEEDS WORK
:
The Goldberger website notes, "All surfaces and clothing are made from cotton fibers, which are free of harsh chemicals and dyes" which bothers me a little because unless you're using organic cotton, there is a chance of chemicals. These dolls are not certified organic and there's no info about the dyes used except for the above statement. So, I'm not too keen on the "green" without actually being green aspect.
The packaging has no recycling reminder on it, which is too bad since you can recycle this packaging easily. They do however remind consumers to reuse the box which is nice.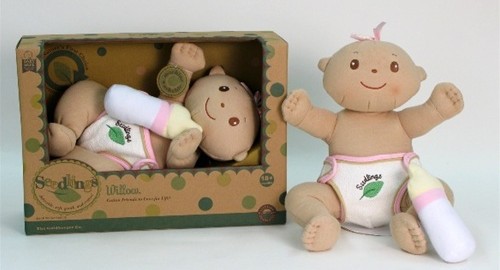 OVERALL
: If you're looking for a baby safe doll, that's soft, lovable, cute, affordable, and mellow, this is the perfect toy. For the price the seedlings will make a great holiday gift. Besides the Ivy and Blossom dolls there's also a VERY cute
Willow Seedling
available (shown above). Bonus - right now the company is offering FREE shipping on all orders over $25.
Learn more about the adorable Seedling dolls at Goldberger.